Introduction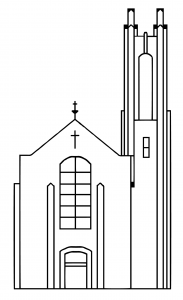 Missionaries from the Methodist Church, some of the first anglo settlers in Texas, sought to establish institutions of higher education as a marker of permanence and attainment. This exhibit illustrates their attempts, difficulties, and ultimate success in Southwestern University.
The items in the first case (represented in digital form as a webpage) depict the Methodists' theological commitment to education. However, Methodist colleges faced many difficulties and often failed despite a strong effort to appear stable and prosperous. Rutersville College, the first in Texas, was established in 1840 in the midst of disease, violence, and political instability. By the end of the nineteenth century, Methodists had founded twenty-one colleges in Texas, twice as many as any other denomination; competing for the same pool of students and donors. As a result, many of these schools were under-enrolled and financially insecure. The items in the second case illustrate the disparities between the image of stability that Methodists tried to maintain and the actual conditions of their universities. 
As an example of these difficult conditions, the items in the third case highlight the particular tragedies that plagued Soule University, one of Southwestern's four root colleges. Soule University's early years were marked by difficulties providing adequate facilities and faculty pay, and the Civil War would catalyze an abrupt and irreversible decline in its condition. Upon accepting the presidency of Soule in 1868, Southwestern founder Francis Asbury Mood immediately recognized that the educational endeavors of the Methodist Church were failing.
The persistence of Southwestern University and success of Methodist education in perpetuity is inextricably linked to the efforts of preacher Francis Asbury Mood, who insisted that the Methodist Church needed one central university in Texas. The founding of this university was an immense challenge, but Mood persevered due to his belief that God would bless the mission. Mood wrote to J.D. Giddings in 1871, "I have offered ceaseless prayer to God that he would vouchsafe his blessing in some form upon this proposal to bless the future generations of the Church. My heart dies within me at the thought of its final failure." 
Although the Methodist Church supported the central Texas university in theory, much of the burden to open and sustain it fell to Mood. In this pursuit, Mood sacrificed both the financial wellbeing of his family and his own health. The fourth and fifth cases demonstrate F.A. Mood's sacrifices and ultimate success in the establishment of the Texas University - later chartered as Southwestern University - a permanent central Methodist university in Texas and a successor to root colleges Rutersville, Wesleyan, McKenzie, and Soule.